Before we decide to buy an SSD drive for our computer, we need to answer a few questions. First of all, it is necessary to determine what budget we have and what capacity we are interested in. In addition, a long warranty period of the manufacturer is a big advantage. In this way, we can protect ourselves in the event of an unexpected failure of our SSD drive. Most solid-state drive manufacturers offer a 3-year warranty, although some more expensive drive models come with a 5-year warranty. However, unlike the older models, SSDs currently produced are extremely durable. They will serve us for several years without major problems.
Technologies used to connect SSDs to the motherboard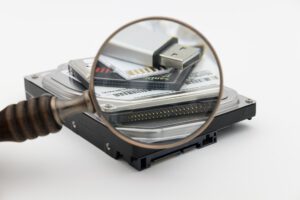 There are many different SSD drives available on the market . One of the most important parameters is the interface through which we connect the drive to our computer. The most common are SATA connectors, which are used in both SSD and HDD drives. In the case of the SATA III version, data transfer is possible at the level of 600 MB / s. The vast majority of modern drives fully use the potential of this type of connector. Therefore, the PCIe rails have gained in importance. After connecting our SSD drive to them, the transfer speed reaches 4 GB / s. However, our motherboard must support the PCIe 3.0 interface. This interface works perfectly with NVMe SSDs. We also need an M.2 slot on the motherboard. Otherwise, you will need to purchase special adapters that will allow you to attach the NVMe drive to the PCIe bus. It is the NVMe (Non-Volatile Memory Express) technology that allows you to take full advantage of the bandwidth offered by PCIe interfaces. M.2 SSDs do not necessarily use NVMe technology. Some models still use SATA connectors. The least common are mSATA and U.2 SSDs. In these cases, we may have trouble finding compatible motherboards.
Why is buying an SSD a better choice than choosing a HDD?
People still using a traditional hard drive should seriously consider replacing it with a newer solid-state drive. Regardless of the model we choose, it will be much more efficient than even the fastest mechanical drive. If we plan to gradually replace components in our computer, it is worth starting with the drive. After mounting the SSD drive, we will feel a drastic difference when it comes to loading the system and various software. However, it is still a more expensive solution than HDD drives. Many people still decide to buy an SSD drive, choosing slightly less capacious models. An interesting solution is to install our operating system and some of the most demanding games on it. All other files can be left on the HDD without any problems. Gamers should invest in a model with a capacity of at least 500 GB. People who cannot choose between these two types of drives may be interested in the modern Optane drives manufactured by Intel. However, not every computer will be able to handle these types of components. Moreover, they are not cheap products at all. For now, medium-capacity SSDs in combination with a 1TB HDD drive remain the optimal choice.
What should you know about U.2 SSDs?
The most common interfaces used in SSDs are SATA, PCIe, mSATA, M.2, and U.2. In the case of hard drives, we most often meet the SATA III connector. In the past, this standard was known as SFF-8639. It is designed with the enterprise market in mind and is compatible with a variety of interface standards. U.2 connectors support the NVMe protocol and PCIe 3.0 x4 buses. In theory, its bandwidth reaches 32 GB / s. In addition to high speed, such SSDs are characterized by low latency and energy consumption. This interface is very popular among entrepreneurs. Typical business class drives use traditional PCIe connectors or just the U.2 interface. However, this does not mean that individual customers should not buy such a drive. Intel's 750 series products are a good example. SSDs with a capacity of 400 GB, 800 GB and 1.2 TB are available. In the case of the Intel 750 U.2 SSD model with a capacity of 1.2 TB, the read and write speeds can be up to 2400 MB / s and 1200 MB / s respectively. In turn, the number of operations performed each second is 440,000 (data reading) and 290,000. (data recording). In other words, they are very efficient SSDs. More and more computer component manufacturers are announcing support for U.2 format.
SEE ALSO:
How do U.2 SSDs fare compared to M.2 models?
Both formats theoretically have a bandwidth of 32 GB / s. Then why did manufacturers decide to introduce U.2 drives? M.2 drives are 30 to 110 mm long and are mostly used in mobile devices such as notebooks and ultrabooks. In turn, the length of the U.2 disk is as much as 2.5 inches and is most often used in the server room. In data centers, drives using the M.2 format will not work at all because they are too small.