Due to its large size, the trapezoidal sheet is an excellent material for covering large roof slopes as well as facades. Trapezoidal sheet is used to cover single-family houses in a modern and industrial style. It is also very often used to cover agricultural buildings, public buildings, garages or office buildings. The structure of the trapezoidal sheet is layered and may vary from manufacturer to manufacturer. The steel or aluminum sheet is covered on both sides with a special layer, which is the most important corrosion protection. Various decorative coatings are used, it is worth paying attention to their quality, because it translates into their long use.
What does it look like and what are the dimensions of the trapezoidal sheet?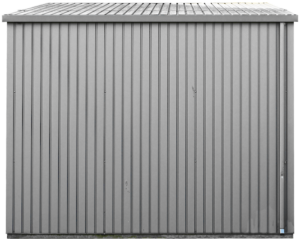 Trapezoidal sheet has longitudinal trapezoidal embossing. The height of the parallel grooves thus formed from which the water flows is 2-55 mm. The sheet is available in various widths (sheets from 50 to 150 cm) and lengths (up to 12 m in the case of steel and up to 7 m in the case of aluminum. trimming it to the desired length.
Trapezoidal sheet for facades
The distance between the ribs and their height can vary, which provides a different pattern for the trapezoidal sheet. On roofs, especially in single-family houses, sheet metal with a flatter profile looks better. The profiled sheet with a deep wave is intended for facades.
 Steel trapezoidal sheet
These trapezoidal sheets are characterized by a natural metallic color. They can be additionally covered with a protective and decorative coating of polyurethane or polyvinyl fluoride. The availability of steel sheets is quite large, everyone can freely choose among the finishing coatings and their colors. The trapezoidal sheet covered with galvanized steel has a rough appearance and will not rust in a few years. The product coated with aluminum has a much better protection against corrosion. Additional plastic coatings ensure very long-term protection. Steel trapezoidal sheet is more than twice as heavy as aluminum – 1 m2 weighs 5-12 kg (both materials are light).
Aluminum trapezoidal sheet
Trapezoidal sheet is also made of aluminum. It has numerous advantages as it will not rust and contains additives that do not cause oxidation. Protective coatings are available in fewer colors available.
Coated trapezoidal sheet
Trapezoidal sheets are good quality material , efficiently protected by polyester and polyurethane coatings, guaranteeing long use and an attractive appearance. Trapezoidal corrugated board is an excellent material for covering roofs and walls, used in industrial, residential and general construction. A wide range of colors allows the use of trapezoidal corrugated cardboard in a variety of buildings and in any environment. This material is characterized by an aesthetic appearance and easy installation.
The main elements for mounting the trapezoidal sheet:
Bent sheets of appropriate sizes – occupy most of the roof.
Curved cornices are mounted on the roof to allow rainwater to drain from the roof into the gutter.
Washers are required for a threaded connection, with which the pressure increase can be evenly distributed over the entire area.
Special screws for trapezoidal sheets with a very sharp point. They are perfect for the easy piercing of sheets.
Corner panels representing the side of the roof on the slopes.
Curved ridge sheet forming the apex of the roof.
 Rubber profile fillers – indispensable as accessories. They make connections on overlapping trapezoidal sheets.
Gutters and gutter holders drain rainwater.
Construction companies can choose from a variety of profiles, which is why so many different construction projects can be realized together with trapezoidal sheets. The higher the profile, the greater the stability. Especially for broadband stables, workshops or industrial buildings. In this case, efficient installation and a solid structure play an important role. However, the trapezoidal sheet is also suitable for small projects.
What material to choose?
Galvanized steel sheet provides good corrosion protection and can be painted as requested. However, in the puncture sites, the trapezoidal sheet loses its anti-corrosion protection. Hot rolled aluminum is non-corrosive at the installation location but is susceptible to scratching. Stainless steel is unsuitable for its insensitivity and load-bearing capacity. Suitable for additional roof structures such as photovoltaic modules.
Avoid using an angle grinder when cutting trapezoidal sheet metal. The blades can destroy the coating of the profile inserts. These sheets are eagerly used because they are an economical purchase and can be used universally. Builders say it is a universal material that is often used in lightweight construction. It can be covered with coatings that provide resistance to bacteria, protect against corrosion, suppress noise and have high fire resistance.